North Monastery
Primary School
Fáilte go dtí An Mhainistir Thuaidh!
Welcome to the North Monastery website.
We are a boys' school who look forward to meeting the needs and development potential of all our pupils. Our founder, Edmund Rice, believed all pupils have talents and abilities which should be nurtured in a caring, happy and Christian environment.

Today we continue this noble tradition.
Carl O'Brien – School's Principal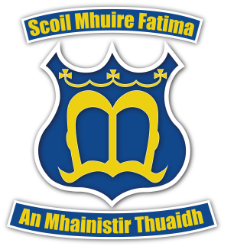 On the 24th of October the boys from 2nd class and parents visited Blackpool Library to meet with Valerie Sheehan, author of the Tony the Turtle series of books. She is excellent and the boys had a great time. We were made feel very welcome by Mary, our librarian....
read more
UPCOMING EVENTS
11th Oct – Cooking/Baking classes for adults start.
19th Oct – Sponsored Walk. Boys going home @ 12:00pm. Teachers' Inservice in the afternoon.
23rd Oct – 3rd class visit to Blackpool Library to meet puppeteer,, Aaron Towers @ 9:30am.
24th Oct – 2nd classes visit Blackpool Library to meet author Valerie Sheehan @ 11:00am.
25th Nov – School closes at 12:00pm in honour of Lord Mayor's Office.
26th Oct – School closed due to Presidential Election.
29th Oct – 2nd Nov – Mid Term Break.
23rd Nov – Parents' Association Bag Packing in Dunne's Store in Blackpool: 5:00pm to  9:00pm.
24th Nov- Parents' Association Bag Packing in Dunne's Store in Blackpool: 10:00am to 6:00pm.
21st Dec – School closes @12:00pm for Christmas holidays.
School Calendar
2018 – 2019
First Term

30 Aug | School Opens
29 Oct – 2 Nov | Mid-Term Break
20 Nov – 22 Nov | Parent/Teacher Meeting
21 Dec – 6 Jan | Christmas Holidays
Second Term

7 Jan | School Reopens
18 Feb – 22 Feb | Mid-Term Break
15 – 18 Mar | St. Patrick's Weekend(closed)
12 – 28 Apr | Easter Holidays
Third Term

29 Apr | School Reopens
6 May  | May Bank Holiday (closed)

3 Jun | June Bank Holiday (closed)
28 Jun | Summer Holidays
Have a look at our school premises.
Address
Scoil Mhuire Fatima,
North Monastery Primary School.
North Monastery Road,
Cork,
Ireland
Contact
Phone
+353 (0)21 4303481
Fax
+353 (0)21 4305020
Email
scoilmhuirefatima@eircom.net
HSCL – Mick Dowling   086 7250294
info@northmonprimary.net